One Week at Mississippi Department of Archives & History (MDAH)
MS Department of Archives and History (MDAH)
On June 6, 2022, I drove from Oxford to Jackson, Mississippi to conduct a research at the Mississippi Department of Archives and History (MDAH). This was a follow-up to the research conducted by the Mt. Zion Memorial Fund's team in the Black communities of the Mississippi Delta. Between May 17 and May 22, Dr. DeWayne Moore led a team of researchers including Shannon Evans and I to conduct community-engaged research in Bolivar, Carroll, and Lowndes Counties. During the research, there were new discoveries and we were able to identify important sites in African American communities. During our visit to the Bolivar County Court House, we learned that a man named Dr. Robert Lee had conducted extensive research on Black cemeteries in Bolivar County. Dr. Lee was said to have deposited his manuscripts at the Mississippi Department of Archives and History. To locate Dr. Lee's manuscripts and other documents relating to African American communities in Bolivar and four other counties, I spent six consecutive days in Jackson conducting research at the MDAH.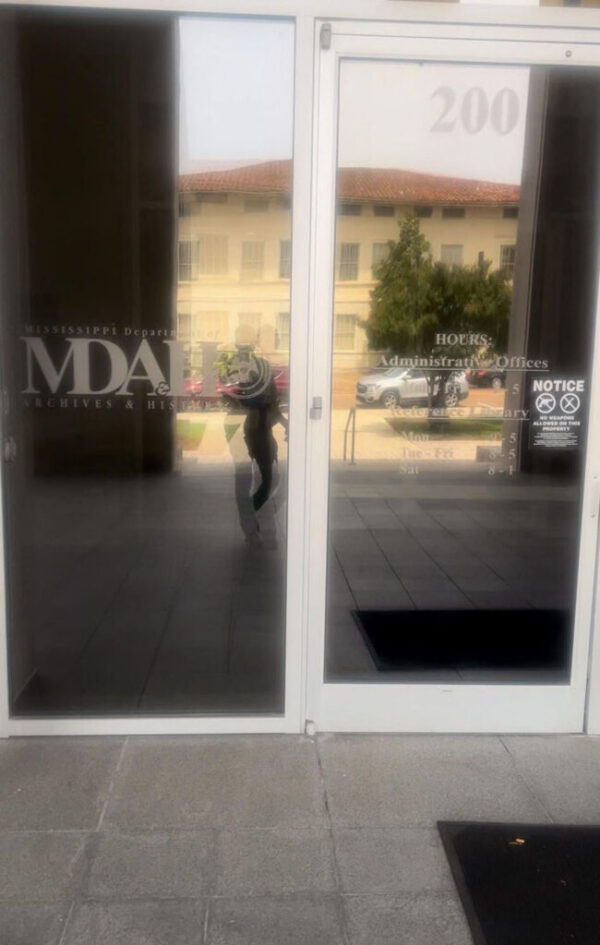 The Right Place?
It was not my first time in Jackson, but it was my first time researching at the MDAH. I approached the receptionist, and she asked me, "What are you trying to find?" My goal was to locate and digitize property rolls, death certificates, and rural school records as well as other information about Black communities in Bolivar, Carroll, Copiah, Hinds, and Lowndes Counties. After convincing the receptionist that I had come to the right place, I registered at the front desk. The receptionist stressed that the archives only had documents between 1912 and 1943, along with a few records from the late nineteenth century.
The Research Room
I approached the Archives/Research room and signed in,  but I did not knowing where exactly to start my research. I told the archivist on duty that I was interested in everything relating to property rolls, death certificates, and rural schools in five counties, and he asked me to narrow down my search. Thus, I decided to start with death certificates, and I asked for a catalogue of collections. He asked, "Are you looking for a particular person or time period?" And I replied, "No, I do not. I just want death certificates of African Americans in five counties." Later, I found out that most people who come to MDAH are searching for particular individuals.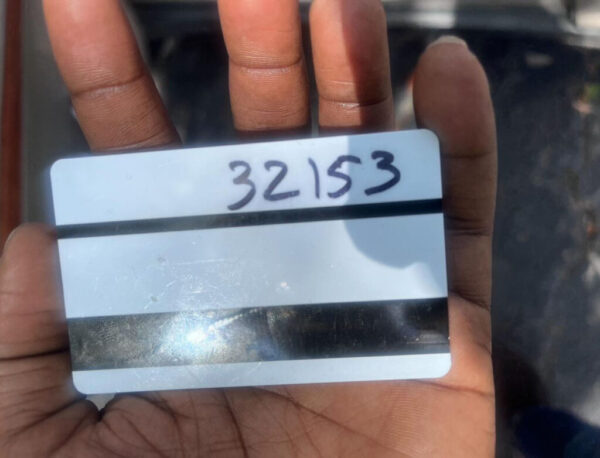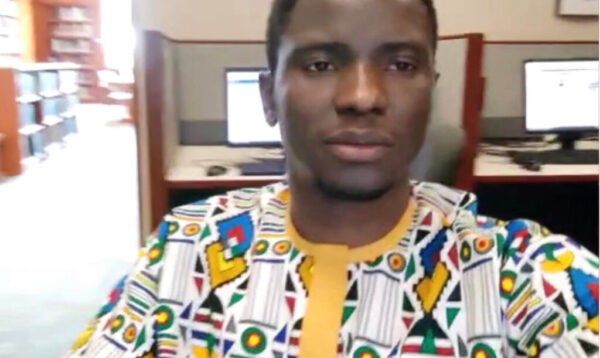 African American School Records
I searched the catalogue and found thousands of death certificates. Thus, I contacted Dr. Moore to ask if we needed to narrow down the search to focus on particular periods or important individuals. Since he did not respond immediately to my text message, I once again approached the archivist to discuss property rolls and school records. He told me that MDAH did not keep school records–except for some administrative reports–and I hoped that I might discover the names of rural communities in the available reports. After searching through several of the records, I did find any school listed by name. Unfortunately, the available records on rural schools did not contain any leads for African American communities at the turn of the twentieth century.
Time Running Short on the 1st Day
After not finding any information in the school records, I asked for the property rolls. It was already 3:30 PM, and MDAH closes at 4:30 PM. Not being one to accept failure even on the first day, I went to the computer again and searched for records on education in Bolivar County. The search returned few results, including the list of educable children without the names of schools. I tried to contact DeWayne again to see if we could use this without the names of schools, but he had still not responded to my first message. Since MDAH was closing, I looked unsuccessfully for additional clues. I printed a few copies to study at the hotel that night while waiting for a response from Dr. Moore.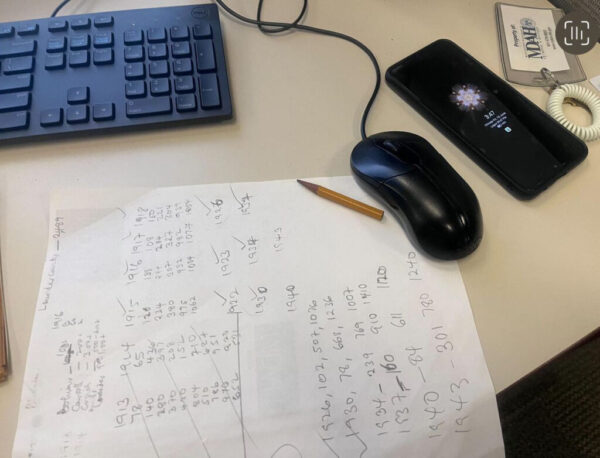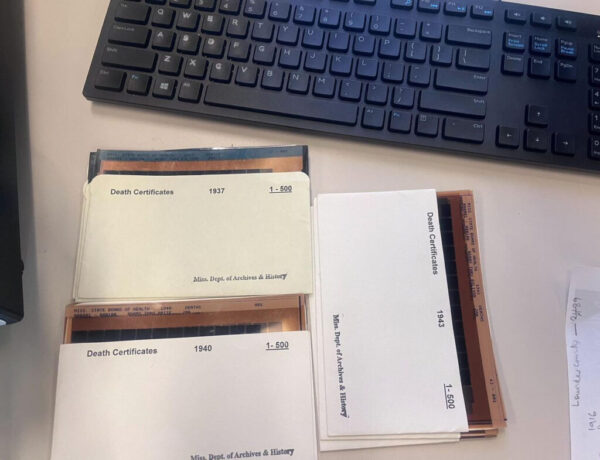 Over 200,000 Death Certificates
The following day, I returned to MDAH at 8:30 am, and I started to examine the records on educable children. Though I tried to discern if the schools were African American, I realized that it was beyond my capacity at this time. Thus, I decided to check the catalogue for death certificates instead. I found that MDAH has more than 200,000 death certificates from 1912-1943. I limited my search to the five counties, beginning with Bolivar County, which has more than 4,000 death certificates. I needed to narrow it down again to African Americans, and luckily there was the option of race; it really helped. The catalogue lists death certificates alphabetically, so it is possible to find records from any given year at any point in a search, depending on name.
Discerning a Research Methodology
I decided that this would slow down my search since death certificates were not the only targets. I tried searching by date, and I looked up Bolivar County November 1912, the starting period of the records in the Archive. The search returned about 50 to 100 names for November-December 1912. I wrote 20 certificate numbers and gave them to the Archivist. He gave me three packs of films. Each park contains five films, and each film contains 100 death certificates, with races mixed.  Since I already knew the certificate numbers, I only needed to track the certificate numbers and confirm if the information in each death certificate matches the description in the catalogue for that number. In almost all the cases, it did.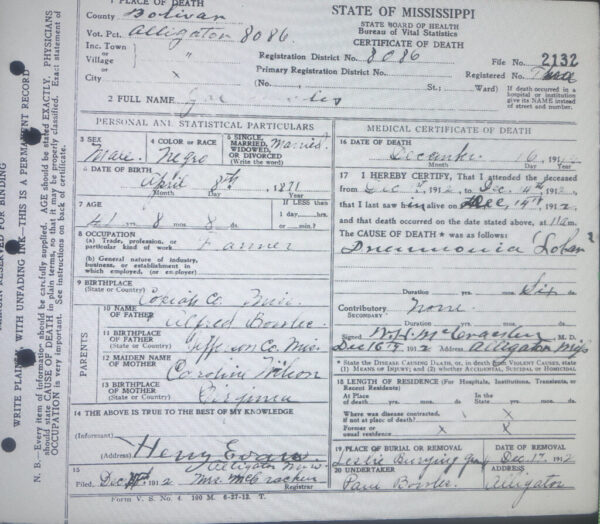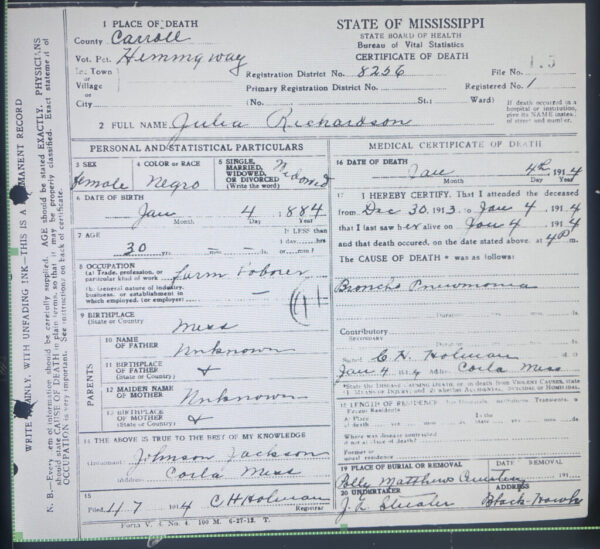 Life & Death Get in the Way Sometimes
Now everything looked pretty straightforward, and I decided to fully focus on the death certificates for the day. I needed to copy as many as possible. Again, because of time and financial constraints, I asked DeWayne if it would be wise to focus on a particular period or groups of African Americans.  He was attending a funeral and asked me to not blow up his phone with my endless messages. 
Discerning Race on Government Documents
But in the process of verifying the certificate number and studying the certificate further, I found that they were arranged alphabetically by county. Each certificate contains information such as full name, date of birth, age, sex, race, marital status, profession, birthplace, place of death, and place of burial. I focused mainly on the race and place of burial. African-Americans are described in the death certificates as "black," "African," "negro," "colored" and "Mulatto." DeWayne confirmed that African-Americans were indeed referred to as Mullato in Mississippi in 1912.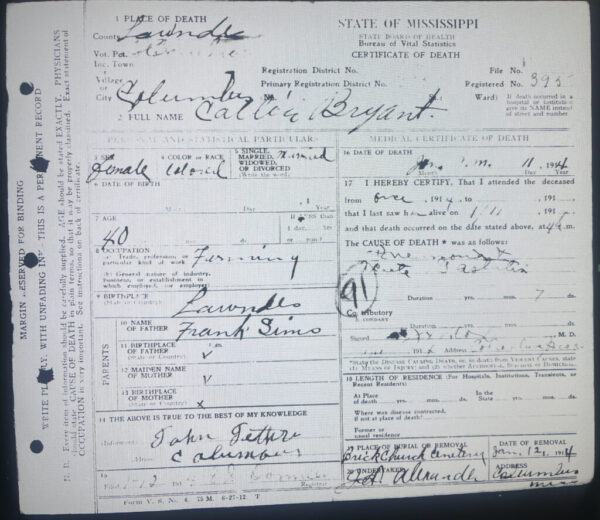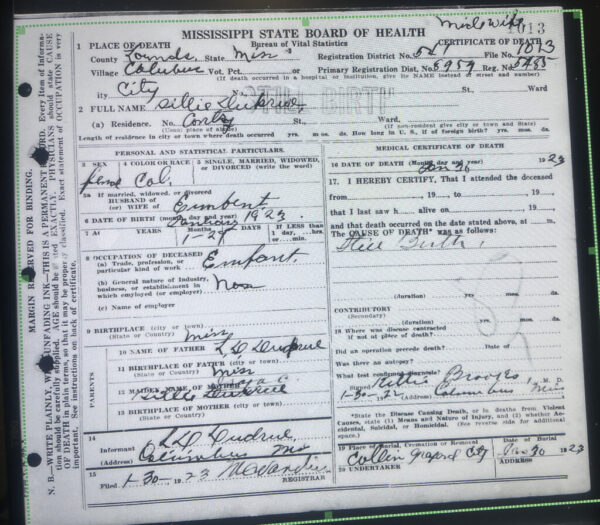 Life & Death Get in the Way Sometimes
I copied the certificates in chronological order. November 1912 is the start day for the majority of the records, particularly death certificates. Because I had to look at the catalogue and write the certificate numbers of African-Americans for each, the process was long. It took me about an hour to compile a list of certificates of African Americans for the year 1912 alone. When I got the films, it took me another hour to copy about 100 certificates for Bolivar, Carroll, Copiah, Hinds, and Lowndes Counties. This was all I achieved on the second day. But then, I was confident that I was on the right track. The only thing was to master the process.
On the third day, I arrived at 8:30 am, and I went straight to the computer after signing in for the day. My concern was how to manage the process in the time remaining. I had to rely on my mathematical skills. I began to study the set of data available to understand the pattern. I could only retrieve five packets of films at a time. After studying the arrangement of the certificates on the films, it did not take me long to realize that I needed just three folders/packets for the counties I cover. For each year, pack one contains five films with each film containing 100 certificates alphabetically arranged by county. Bolivar, Carroll and Copiah are always in the first pack of five films. Certificates for Hinds County are found in pack 2, but Lowndes County is sometimes found in Pack 2, 3, or both. I soon realized that I only needed the first three packs of film for each year. This made my job easier, but I confronted another obstacle. The Archivist, a senior, wanted me to write each certificate number so that he could retrieve the films accordingly. This was where I had to rely on my mathematical skills.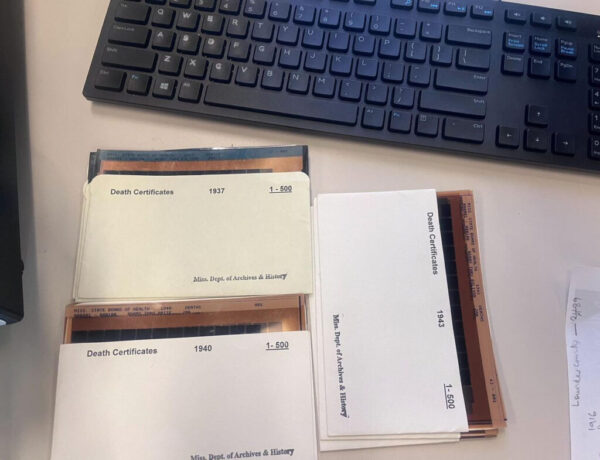 Microfilm Rolls
I began to generate imaginary numbers but these numbers have to be in the catalogue. Initially, I generated 15 random certificate numbers between 0-1500, each certificate number representing a film. The archivist looked at it and gave me three packs of films, i.e 0-500, 501-1000 and 1001-1500. 
Discerning Race on Government Documents
Again, I verified that all the counties of interest were found. After requesting two more years, I further realized I could note only three certificate numbers, one for each pack. It worked, and from there I could ask for more years at a time since it was also easy for the Archivist to locate the packs. Upon retrieving the last batch of packs the Archivist realized that I needed the first three packs of films for each year. And he probably did not know that I generated the random number since those numbers were found in the catalogue.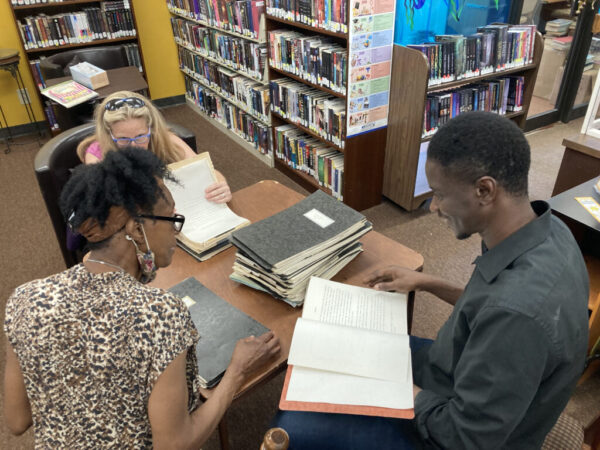 Here is a list of African American cemeteries we identified from our research at MDAH.
Lowndes County
Banks Cemetery – Thomas Store Precinct
Bank Place – Mayhew, MS
Billups – Columbus, MS
Brick Church – Columbus, MS
Carr Cemetery – Crawford, MS
Cedar Ridge – Dearings Store Precinct
Cedar Grove Cemetery – Caledonia, MS
Collin Colored Graveyard – Columbus, MS
Concord Cemetery – Columbus, MS
Cook Graveyard – Columbus, MS
Cox Cemetery – Dearing's Store Precinct
County Farm Cemetery – Thomas Store Precinct
Egger Cemetery – ?alidoma Precinct
Field Place – Dearing Store Precinct
Friendship Cemetery – Columbus, MS
Hairston Colored Cemetery – Pratt's Store Precinct
EG Hardy Place – Pratt's Store Precinct
Hardy's Bluff Cemetery – Columbus, MS
Hopewell Cemetery – Columbus, MS
Lee Cemetery North – Columbus, MS
??Lillon Church – Red Zion Precinct
Midway Church Cemetery – Columbus, MS
Military Chapel – Columbus, MS
Moore's Bluff – Pratt's Store Precinct
Airy Cemetery – Columbus, MS
Naberwinkle Cemetery – Columbus, MS
New Hope Cemetery – Columbus, MS
New Zion Cemetery – Columbus, MS
Nick Hairston Place – Trinity Precinct
Oak Grove – P. Store Precinct
Oaklawn – Crawford, MS
Peter's Graveyard – Arteria, MS
Pilgrim Cemetery – Columbus, MS
Pine Grove – Columbus, MS
Ragland Cemetery – Columbus, MS
Ralb Cemetery – Caldonia, MS
Rilley Graveyard – ???, MS
Sand Creek Cemetery – Thomas Store Precinct
James – Crawford, MS
Stallings Cemetery – Columbus, MS
Stallion Cemetery – Columbus, MS
Tabernacle Church – Columbus, MS
Trinity Cemetery – Columbus, MS
Union Cemetery – Columbus, MS
Vaughn Cemetery – Caledonia, MS
Watson Cemetery – Columbus, MS
Watson Place – Thomas Store Precinct
Bolivar County
Africa Cemetery – Duncan, MS
Bethlehem Cemetery – Shaw, MS
Bishop Graveyard – Lovie, MS
Carter Cemetery – Gunnison, MS
Collins Cemetery – Pace, MS
Fox Plantation – Scott, MS
Freeman Plantation Cemetery – Shaw, MS
Leslie Burying Ground, Alligator, MS
Myer Plantation – Scott, MS
New Bethel Cemetery – Boyle, MS
New Hope Cemetery – Rosedale, MS
New Baptist Church Cemetery – Shaw, MS
Colored Graveyard – Pace, MS
Pleasant Green Church, Merigold, MS
Popular Grove Cemetery – Shaw, MS
Porter's Bayou – Shaw, MS
Potter's Field – Beulah, MS
Sander's Chapel – Duncan, MS
Scotland Cemetery, Beulah, MS
Shady Grove – Duncan, MS
Spingle Banner Cemetery – Shaw, MS
Sillers Cemtery -Beulah, MS
Spring Hill – Shaw, MS
Lima Graveyard – Pace, MS
Peter's Church – Merigold, MS
James Cemetery, Alligator, MS
Stringtown Cemetery – Benoit, MS
Union Grove – Duncan, MS
Vice Graveyard – Pace, MS
Ward Chapel – Scott, MS
White Cloud – Merigold, MS
Wilson Cemetery – Beulah, MS
Zion Cemetery – Shaw, MS
Carroll County
Bethel Cemetery – Blackhawk
Blackhawk Cemetery – Carrollton, MS
Ellisdale Cemetery
Evergreen Cemetery – Carrollton, MS
Matthews Cemetery, Carrollton, MS
Montgomery Cemetery – Blackhawk, MS
Moss Springs – Carrollton, MS
Nebo Cemetery – Blackhawk
Pleasant – Blackhawk
Zion Cemetery – Blackhawk
Old Bethel Cemetery – Carrolton
Polly Matthews Cemetery – Hemingway
Summerfield Church – Winona, MS
Teal Cemetery – North Carrolton
Tillman's Chapel – Banks Shop